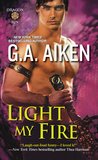 Light My Fire
by
G.A. Aiken
My rating:
3 of 5 stars
I don't know precisely why, but I was a little bit disappointed in this one. Good story, with two interesting characters, Celyn and Elina. New entries, very bad people. A lot of humor, as always. (Maybe a little stirred sometimes.) The same old crazy family of Cadwaladr, with appearances of many loved ones: Briec and Talaith, Gwenvael and Dagmar, Izzy and Eibhear, Annwyl and Fearghus, Bram and Ghleanna...
But I haven't connected with it.
Maybe the lack of sparkle, maybe because at a point I have found Elina one-dimensioned and annoying, maybe 'cause the great number of characters is more a "bonus-cheers" than a necessity in the story, maybe 'cause there are too many elements not so connected (crazy adepts of a new cult, dragons that suddenly became betrayers...), but I haven't liked this one as the other books of the series.
I really hope that I'll found the next book enthralling and wonderful, of course!
View all my reviews